Links
75 Years Preventing Wildfires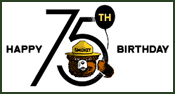 From the USDA Forest Service, Ad Council and National Association of State Foresters
https://www.smokeybear75th.org/
Since 1944, Smokey Bear has taught millions of Americans just like you about their role in preventing wildfires. Seventy-five years later, in 2019, Smokey is celebrating a milestone birthday. Will you join us in honoring Smokey Bear and this timeless message of wildfire prevention throughout 2019? Find an event near you.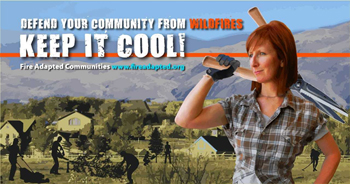 Fire Adapted Communities
https://fireadapted.org/
The Fire Adapted Communities Coalition is committed to helping people and communities in the wildland urban interface adapt to living with wildfire and reduce their risk for damage, without compromising firefighter or civilian safety. The coalition provides information and expertise on the development of this website and other activities related to fire adapted communities.
FireFree
https://www.firefree.org/
FireFree, founded in 1997, is a year round educational effort to empower residents to prepare their home for the threat of wildfire. The 10 fire free steps are: 1.) define your defensible space 2.) reduce brush near home and underneath trees 3.) prune or remove trees 4.) keep grass and weeds cut low 5.) clear wood piles and building materials away 6.) keep your yard and roof clean 7.) keep address signs visible 8.) choose fire resistance building materials and lawn furniture 9.) recycle yard debris – avoid burning 10.) be prepared to respond to wildfire.
Living with Fire
http://www.livingwithfire.info/
Find information on fire-adapted communities, becoming "ember aware," what homeowners can do before, during and after a fire.
Ready, Set, Go!
From the USDA Forest Service and multiple other partners
http://www.wildlandfirersg.org/
The RSG! Program tenets help residents be Ready with preparedness understanding, be Set with situational awareness when fire threatens, and to Go, acting early when a fire starts.
Smokey Bear
From the USDA Forest Service, Ad Council, and National Association of State Foresters
https://www.smokeybear.com/en
Check out this web site for information about Smokey's history, wildland fire, how to prevent fires, information for kids, and resources for educators.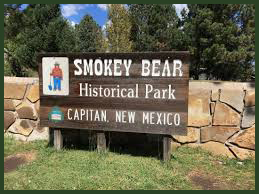 Smokey Bear Historical Park
From the New Mexico State Forestry Division
http://www.emnrd.state.nm.us/SFD/SmokeyBear/SmokeyBearPark.html
In 1979, Smokey Bear Historical Park was established to honor Capitan's favorite son, Smokey Bear. Nearly three decades earlier, Smokey was an orphaned little bear cub with burned paws, found in the aftermath of the Capitan Gap wildfire. Smokey Bear rose to fame as an icon for forest fire prevention and he lived in Washington, D.C.'s National Zoo for 26 years. When he passed away, the famous black bear was laid to rest in his hometown. His burial site is a special place within the Smokey Bear Historical Park. The park is a true celebration of Smokey's legacy! At the visitor's center, guests can find fascinating exhibits about forest health, wildfires, the science of fire ecology and a historical look at wildfire prevention. The theater features a short film about how forest health and fire impacts our lives today.
Smokey the Bear Song
From the New Mexico State Forestry Division
http://www.emnrd.state.nm.us/SFD/SmokeyBear/SmokeyBearSong.html
Written during the height of Smokey Bear's popularity, the song celebrates the world's most famous bear. In a move that has spawned debate over Smokey's real name ever since, the song was written using a "the" in Smokey's name so that the words could fit the melody.
U.S. Forest Service Graphics of Smokey Bear
From the USDA Forest Service
https://www.nal.usda.gov/exhibits/speccoll/exhibits/show/smokey-bear/us-forest-service-graphics
Check out this special collection of Smokey Bear graphics.
Wildfire Community Preparedness Day
From the National Fire Protection Association
https://www.nfpa.org/Public-Education/Campaigns/National-Wildfire-Community-Preparedness-Day
Communities came together to celebrate the day and work together on wildfire safety projects. We encourage communities to continue this positive momentum and work on wildfire risk reduction projects throughout the year.
Wildfire Prevention
From Ad Council, USDA Forest Service, and National Association of State Foresters
https://www.psacentral.org/campaign/Wildfire_Prevention
For over 70 years, Smokey Bear has been protecting our forests and getting the word out about wildfire prevention. His powerful message, "Only you can prevent wildfires," is at the heart of one of America's longest running PSA campaigns. Indeed, Smokey is an icon: in 2017, 80% of outdoor recreationists (18+) correctly identified Smokey Bear's image and 8 in 10 recognized the campaign PSAs. Although Smokey has been essential to wildfire prevention education over the last seven decades, he still needs help, as even today, nearly 9 out of 10 wildfires nationwide are caused by people. PSAs aim to raise awareness of lesser known ways wildfires are started, such as burning debris on windy days, improperly discarding hot ashes and coals, and dragging improperly secured chains. They remind adults to safely use and extinguish outdoor fires.
Wildland Urban Interface Wildfire Mitigation Desk Reference Guide
From the National Wildfire Coordinating Group
https://www.nwcg.gov/sites/default/files/publications/pms051.pdf
The Wildland Urban Interface Wildfire Mitigation Desk Reference Guide is designed to provide basic background information on relevant programs and terminology for those, whether community members or agency personnel, who are seeking to enhance their community's wildfire mitigation efforts. The four primary objectives of this reference guide are to:
Provide a reference to assist with integrating wildland urban interface mitigation principles into national wildland fire training
Promote common wildfire mitigation language and culture
Establish an authoritative source for wildland urban interface mitigation information
Provide consistent definitions for use by all media